Halfway between San Jose and Ibiza town, it is easily accessible. The long beach with crystal-clear waters of an amazing turquoise colour is definitely the place to enjoy the summer in Ibiza in an atmosphere of glamour, beautiful people, relaxation and nature. Permit us to remind you that we provide a service to boats; we will deliver your order to your boat or bring you to our beach club. The choice is yours. One of the most beautiful coves on Ibiza's coastline awaits you.
The Tropicana Beach Club offers a wide and varied range of services, which allow you to make the most of your day on Cala Jondal beach. The tempting breakfasts can be enjoyed from an early hour. Later in the day you can enjoy anything from simple pasta dishes, sandwiches, burgers and salads, to more elaborate fish and meat dishes. You can also enjoy delicious natural juices, or any soft drink you may require in addition to an attractive list of wines, sparkling wines and champagnes. The Cava Sangria is very popular and in great demand.
If you are thinking of holding any type of event, Cala Jondal Beach and the Tropicana Beach Club is the place , from wedding receptions, business dinners to any other type of celebration.
Just a few kilometres from the city of Ibiza and in one of the best locations on the island of Ibiza, Tropicana has the best facilities for any type of celebration.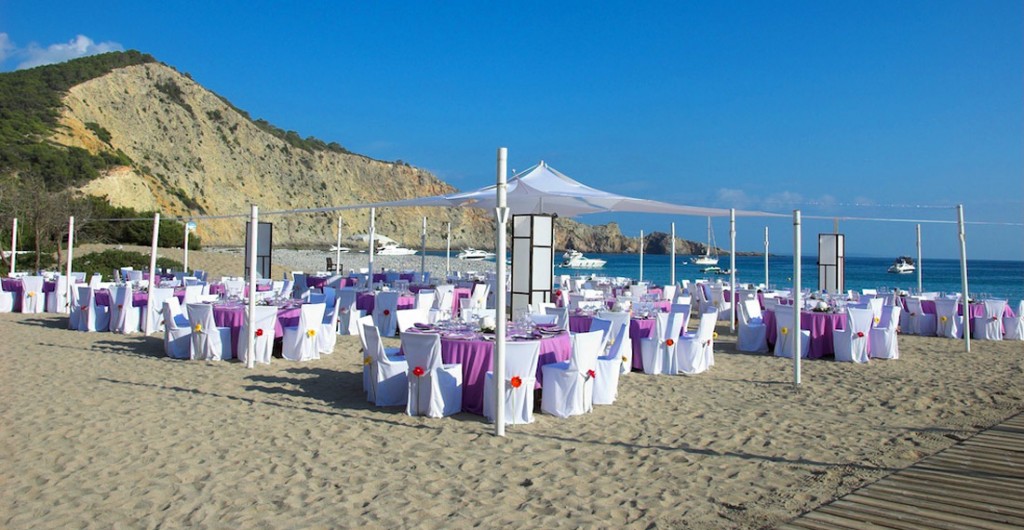 Reviews
There are no reviews yet, why not be the first?